Vi blev inviteret til en mediefremvisning af 2022 Epcot International Festival of the Arts i Walt Disney World. Den månedlange kunstfestival løber fra 14. januar til 21. februar 2022 og inkluderer lækre kulinariske tilbud, fotoops, kridtkunst, liveunderholdning, kunstseminarer, Disney på Broadway-forestillinger, aktiviteter designet med familier i tankerne, det nye Spaceship Earth-lys show "Rainbow Connection" sunget af The Muppets, Harmonious EPCOT Nighttime Spectacular fyrværkerishow og meget mere.
Pop Eats (Nær Port of Entry)
Figment Premium Popcorn bøtte med Rainbow Popcorn. (UDSOLGT)


The Hungry Artist (Mexico)
Huarache Verde: Cilantro Huarache med Cochinita Pibil, frisk ananas og syltet løg
Carne Asada: Steget oksemørbrad, Grillet Queso Fresco, Fried Beans Scallion og Ranchera Salsa
Gourmetlandskaber (Canada)
Blodappelsinbraiseret rødbedecarpaccio med sennepsvinaigrette, syltede muslingesvampe, guldbeder og crostini (farvevandring, plantebaseret genstand)
Brændt knoglemarv med løgmarmelade, syltede svampe, machesalat og knoglemarvssne
Pastoral Gane (Tyskland)
Vildsvin Cassoulet med andeconfit, skinkehase og vildsvinepølse
The Artist's Table (The American Adventure)
Stegte kammuslinger med vanilje-butternut squashpuré, brunt smør blomkålspuré og limeskum (Color Stroll element)
The Deconstructed Dish (Nær Port of Entry)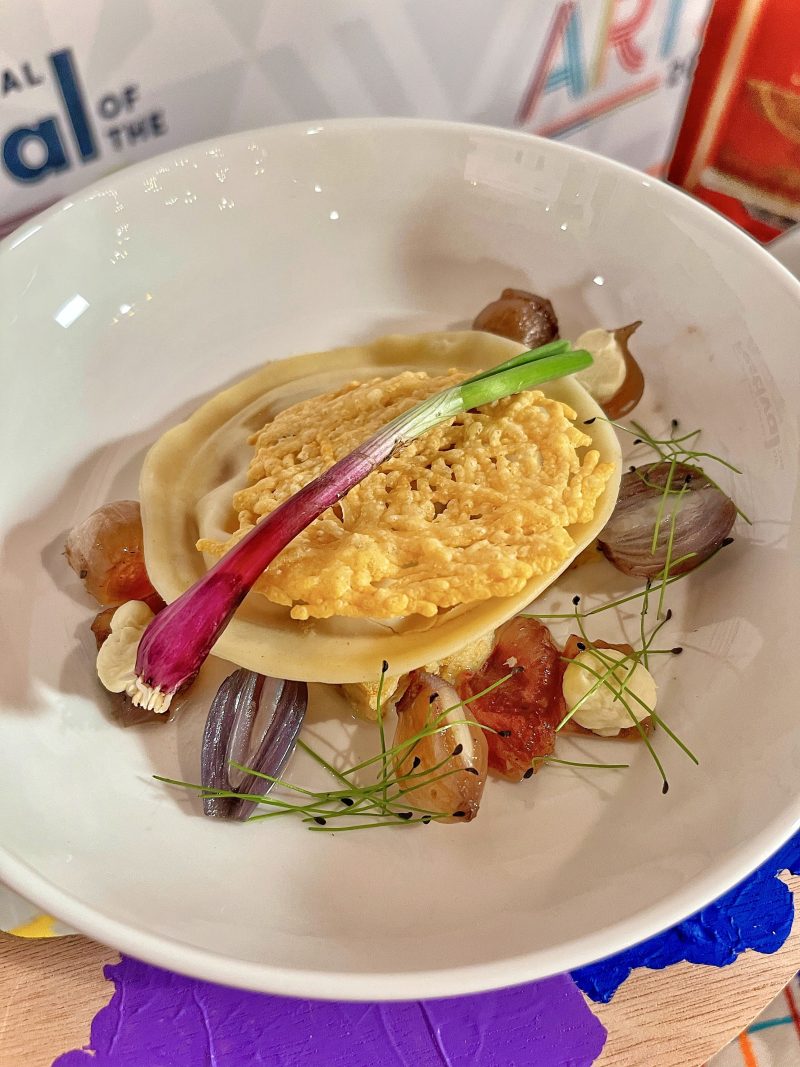 Dekonstrueret fransk løgsuppe: oksebouillon ravioli, Gruyere Espuma, løgbrødsbudding og løgstrukturer
Vibrant & Vivid: Charm Kitchen (Mellem Marokko og Frankrig)
Passionsfrugtmousse med Dragefrugtsyltetøj (gluten-/hvedevenlig)
Officiel 2022 Festival of the Arts-merchandise.
Kerry Butler (Beauty and the Beast) og Telly Leung (Aladdin)

Forskellige par af DISNEY ON BROADWAY-stjerner vil fremføre nogle af de sange, de var med til at gøre berømte, plus andre sensationelle melodier på America Gardens Theatre. Det Disney on Broadway Concert Series Dining Package er tilgængelig på deltagende Epcot-restauranter og garanterer fremvisningspladser.
Deco Delights (Nær Port of Entry)
Appelsinmousse med citronkage og hindbærmarengs
"Rainbow Connection"
Spaceship Earth lysshow med sangen "Rainbow Connection", sunget af The Muppets, som debuterede på åbningsdagen for EPCOT International Festival of the Arts og vil blive malet hver aften under hele festivalen.
Harmonisk EPCOT Nighttime Spectacular

Sørg for at tjekke festivalen ud, inden den slutter den 21. februar 2022, du vil elske den!